<Examples of how we help our clients>
Conduction economic security due diligence
Action planning for the countermeasures for geopolitical risks
Geopolitical scenario forecasting of automotive industries in China
Our Approach for Economic Security
The global business environment has entered an era of turbulence with the escalation of the conflict between the United States and China, Russia's invasion of Ukraine, and the expansion of protectionism in major countries. In addition, the Economic Security Promotion Act has been enacted in Japan and the geopolitical risk and economic security crisis are urgent issues for global companies.
Our expert consultants have conducted numerous analyses and reports on the regulatory trends in the United States, China, and other major countries, as well as the global trends.
Based on our knowledge, we help you to consider your own countermeasures and/or action plan of economic security by analyzing global trends, due diligence and risk diagnosis based on geopolitical scenario analysis.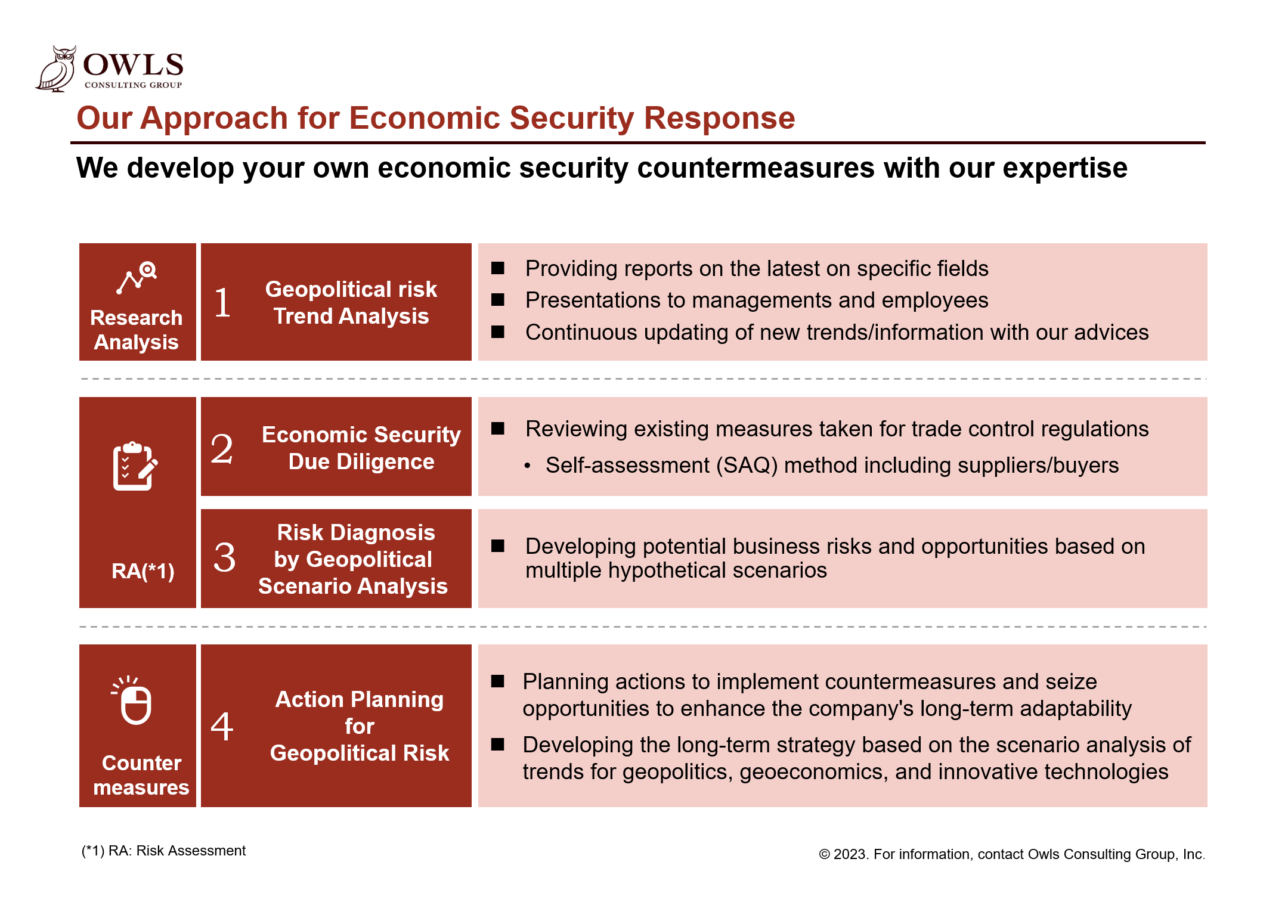 Major Lectures
"Economic Security and Corporate Countermeasures" (2023), Japan Chamber of Commerce and Industry (JCCI) / Tokyo Chamber of Commerce and Industry (TCCI)
"Corporate Countermeasures to the Biden Administration's Indo-Pacific Strategy" (2022) and "Friend-shoring and IPEF by the Biden Administration" (2023) , U.S. Study Group of the Institute for International Trade and Investment (ITI)
"Shaking Up Global Free Trade Regime~The Growing Risk of Fragmentation" (2022), Symposium to Commemorate the 150th Anniversary of the Customs
"The EU's Ambition as Global Rule Maker: Japan's Path from a Rule-Making Perspective" (2021), Webinar of Center for the Promotion of International Economic Cooperation (CFIEC)
"Shifting Agenda of Trade and New Management Policies~The Future of TPP, Economic Security, Business and Human Rights, etc." (2021), International Chamber of Commerce
Our major media coverage
BS TV TOKYO

"Japan-U.S. Summit Meeting and Japan-U.S. Trade Agreement" (2019)
"Focus on the Revision of the Foreign Exchange Law" (2020),
"The Digital version of TPP 'DEPA' Begins: Will the U.S.-China Digital Dominance Battle Accelerate?" (2021)
"RCEP in Effect Trade Issues How to Deal with China" (2022)
"U.S. Aim to Contain China What Path Should Japan Take" (2023)

The 204th House of Councilors Committee on Foreign Affairs and Defense

"Request for the Approval of the Conclusion of a Regional Comprehensive Economic Partnership Agreement" (2021)
Related Reports
Why Owls?
Expertise of our consultants who directly engaged in trade policy and trade negotiations at the Ministry of Economy, Trade and Industry (METI) and the Permanent Mission of Japan to the OECD
Our contributions and comments to major media such as the major Japanese economic newspapers ("NIKKEI", "NIKKEI Business Online", "NIKKEI Business Daily",) and other professional and academic journals such as "World Economic Review".
Expertise of our consultants who have led numerous projects of corporate strategy and global business strategy
Expertise in scenario planning (macro trend analysis and future trend forecasting)
Expertise of our consultants who have served as members of the U.S. Study Group of the Institute for International Trade and Investment (ITI) and as academic members of the Tokyo Chamber of Commerce and Industry (TCCI)